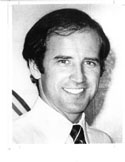 [audio:https://democracywise.syr.edu/wp-content/uploads/2013/04/Biden-profile.mp3]
Not a star student — but a loyal Orangeman.
That's how one of his former professors describes Democratic vice presidential nominee Joe Biden.
Thomas Marone is a professor at Syracuse University's College of Law and taught Biden in his third year in 1968. As Maroney recalls their relationship, there was more to Biden than the papers he wrote and exams he completed.
"I went home one day after class and I said, 'I have this fellow in my class and he may not be the Number One student in the class, but there's something special about this kid. And the word I would use to describe it is presence. And he's going to be something special.'" (Thomas Maroney, professor, Syracuse University College of Law)
But Maroney, a former district court judge in New York, says Biden did have a good amount of success in his class.
"I gave him the only A he ever received." (Maroney)
That's a good thing, too. Maroney taught Biden for a course on legislation.
Biden has been a Senator from Delaware for 35 years. He was born in Scranton, Pennsylvania, in 1942. He moved with his family to Delaware 10 years later and majored in history and political science at the University of Delaware. While looking for law schools, Biden took a trip to the Bahamas for spring break and met Neilia Hunter, an Auburn resident and Syracuse homecoming queen. Hunter convinced him to check out the law school while he was visiting Syracuse, and he made that his choice.
Hunter, along with their two daughters, died in a car crash right before Biden's Senate inauguration in 1973. But three commencement addresses and a number of alumni events later, Biden has kept his Orange ties very strong. In 2005, the university recognized this by awarding him the George Arents Pioneer Medal for his work in public affairs.
"He got the Arents medal from the university, which is one of the highest honors the university gives to any alumnus. He's been a loyal son of Syracuse, shall we say." (Maroney)
Biden first ran for president in the 1988 election. Amid accusations that he had taken parts of a speech from a British politician, information leaked that Biden had nearly been expelled from Syracuse University 22 years earlier for plagiarism. In 1965, he wrote a 15-page law paper using a single source and one footnote — the school gave him an F but let him retake the class next year. Even though he soon released his entire Syracuse record, Biden dropped out of the race within a week. The law school and several of Biden's former classmates would not comment on the incident.
But Syracuse has invited him back to speak at the school, and often. On his first return, his professors all came out to shake his hand. Biden brought along his son Beau, who decided to attend SU. And the younger Biden found a very familiar face in his constitutional law class.
"Beau was a student of mine as well. They're not the only father-son team I've taught, but they're certainly one of the more memorable ones." (Maroney)
The election is November 4th.
For Democracywise, I'm Zachary Kineke.
(Zachary Kineke is a senior with dual majors in broadcast journalism and political science at Syracuse University)
-30-