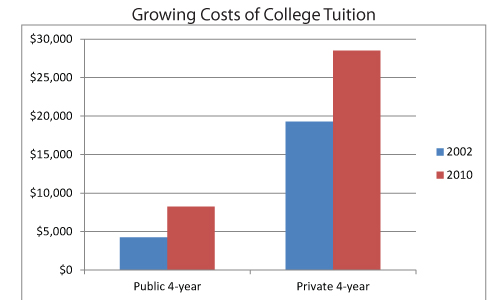 College costs have skyrocketed in the past decade. And that's not likely to change, according to college officials.
"What we have seen, especially at public institutions, is the cost of tuition has gone through the roof," said Sandy Baum, a senior fellow at George Washington University who studies college costs.
For example, consider these figures from the federal Department of Education:
Today, a student attending a four-year public university will pay on average $8,244 on tuition and fees alone.
In 2002,  the average cost of tuition at a four-year public university was $4,220.
That's a 50-percent tuition increase for public university students.
Today, at private universities, the average tuition is $28,500.
In 2002, the average tuition at a private university was  $19,272.
That's about a 32-percent tuition increase.
President Obama has recently threatened cutting federal funding to universities that keep increasing college tuition. But it's unclear how much that would affect colleges, since most government support comes from state governments.
Tuition is going up, partly because of less state spending on college education, say education experts. The single most important factor in tuition increase is state appropriations, said Baum of George Washington University.
"States provide a declining but still significant portion of the revenue on which public institutions rely. What has happened is that states have been cutting the per-student funding to institutions pretty rapidly," said Baum. "Right now, on average, states are receiving 25 percent less in inflation-adjusted dollars in per-student appropriations."
Because of that loss in money, universities are making up the difference by raising the cost of tuition.  At the same time, Baum said,  expenses go up for universities. Salaries and benefits, such as health care, for faculty and staff also go up, she said. And universities must spend more on students.
"Spending per-student has gone up significantly," said Baum. "Colleges have to provide computers, wireless networks and all the fancy classrooms with technology. And that adds to their expenses.  They are also providing way more resources than ever before, like counseling and advising" said  Baum.
At private universities, students and administrators face the same problems.  Kaye DeVesty is the director of financial aid at Syracuse University. She says students must educate themselves about college costs.
"The number one thing is to be armed with information" said DeVesty. "Look at the school you are interested in and check out the cost. Find out how much the school increases tuition each year and find out how much financial aid programs are available and learn ways to budget."
Education costs will not be decreasing any time soon, said DeVesty.  And that's a strain on students. "There is a lot of emotions that are involved in choosing a university," said Devesty. "Students want the best education they can get.  But they do not always know if they can afford it."
(Amanda Watkins is a graduate student in broadcast and digital journalism.)
-30-